I am certainly not going to join the somewhat misogynous canon reflected by many of today's responses on
Carly Fiorina's resignation from HP's CEO seat
. Just some well-known, and other probably not-so-well-known facts about the
Most Respected Business Leader #8 of 2004
(regarding to a
Price Waterhouse Cooper
survey):
Fiorina - when still at Lucent - might have been the business world's darling, but also shared responsibility for several acquisitions and financing activities, which turned out to be extraordinarily painful: USD 825 million lost on the infamous Winstar-investment, loans to Global Crossing, One.tel, Jato, JNA telecommunications - most of them out of business today.


In October 1998 Fortune magazine named Carly Fiorina America's most powerful female executive. Some say this was quite an overstatement - but her public relations efforts had always been excellent. HP's board stumbled over that Fortune article when in search for a new CEO (Lew Platt was about to retire).


Fiorina left Lucent in July 1999 for HP's top position. In December 1999 Lucent came short of its revenue targets by USD 1 billion for the latest quarter alone. One cannot deny that Fiorina - who at that time was President of Lucent's Global Service Provider Business - was at least to be held partly accountable for these results.


Finally at HP, she managed to merge with / acquire Compaq. An heroic effort on one hand. On the other hand many people doubted the sense this merger made from a business point of view (including the Hewlett and Packard families). One of the main reason for Compaq's decline had been its acquisition of struggling former midrange-system star DEC in 1998. Fiorina finally got rid of Walter Hewlett's opposition in conjunction with an ugly lawsuit. Years later, HP was still bleeding from the Compaq merger - the two companies were just too different, some of the top-notch Compaq people left.


And HP's share value trend during more than five years of Fiorina's regency? Let's have a look: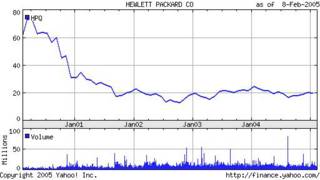 Sun Microsystems'
Scott McNealy
, never short of words:
"HP? A great printer company."